Farewell Screen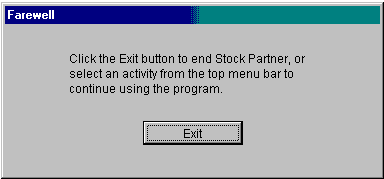 Clicking the Close button on the Navigation bar closes the current screen and displays the Farewell screen. Click the Exit button to quit the Stock Partner program or select an option from the Stock Partner Menu bar to continue using the program.
This concludes the introduction to Stock Partner. You can get detailed help on any element of any Stock Partner screen by clicking the corresponding element in the Reference Section of this Help. Context-sensitive help is also available by clicking any screen element and pressing the F1 key.
Combining the extensive data resources of Stock Investor and its powerful stock screening capability with the advanced analytical power of Stock Partner will make it easy for you to perform the most sophisticated security analysis available.