Open Portfolio Screen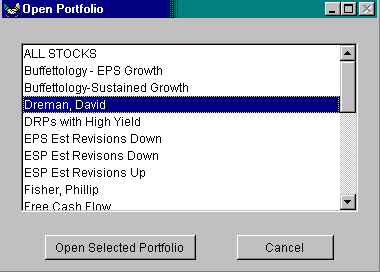 The first step in using Stock Partner is to select a portfolio that you have saved from the Stock Investor program.
The Open Portfolio screen will open automatically after the About Stock Partner screen closes.
You can also select the Open Portfolio screen by clicking the File menu bar option and the Open Portfolio option from the drop down list.
Click the portfolio you want to study and then click the Open Selected Portfolio button. Stock Partner will then open the portfolio you have selected, close the Open Portfolio screen, and open the Select Company screen described next.